COUNTRY LIVING ON THE OUTSKIRTS OF TOWN
Hollister, California is a city located in San Benito County just 40 miles south of San Jose and east of Monterey.   Populated by approximately 34,968 people, Hollister blends an aura of traditional verse modern in its streets, shops, and housing. Easy access to Highways 56 and 101 lead to vacation spots in Los Angeles, Lake Tahoe, or shopping, dining, and playing in San Jose or Monterey.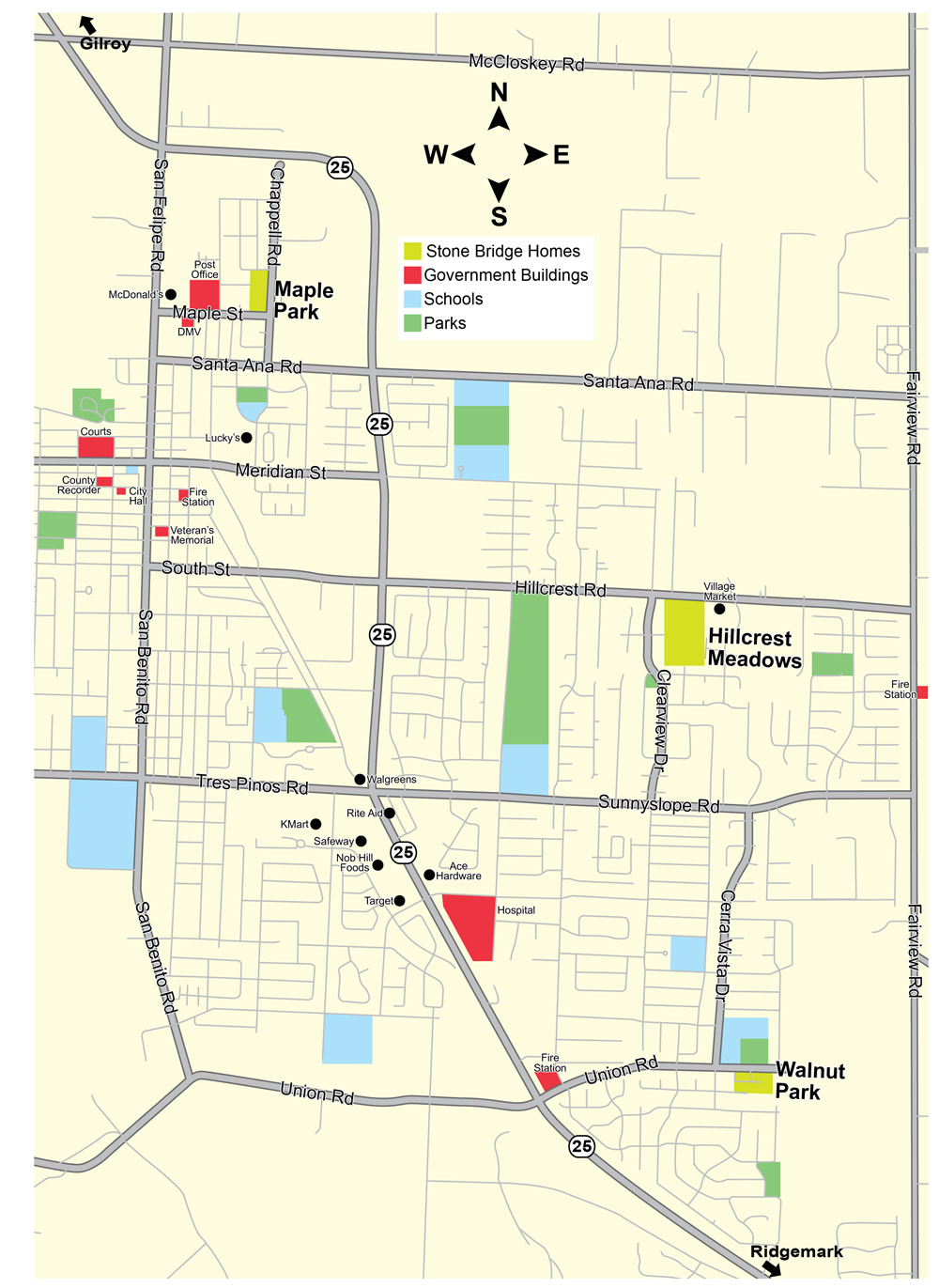 Hollister: A Community with Deep Ties to Its Past
Hollister's history is rich in agriculture, ranching, and farming. These roots have not lost their charm on residents who appreciate Hollister for its novelty stores that offer homegrown garlic and honey, wineries, outdoor recreation, historic landmarks, quaint eateries, and top-rated schools.
Art and Culture
Hollister has a deep appreciation for the arts and culture. The San Benito County Arts Council provides classes, workshops, paint parties, exhibitions, performances, and more. The San Benito Stage Company produces live musicals and theatrical workshops, plays and performances for every member of the family to enjoy.
Family Fun Exploring Hollister's Architectural Past
Hollister is full of history that is still alive and well in this city. Throughout the historic downtown and scattered throughout the neighborhoods remain the intact homes that were first occupied by the original residents of Hollister. John Steinbeck's family originated from Hollister and residents can visit a home that was near Steinbeck's grandfather's house and was also featured in the movie, East of Eden.
Entertainment

Hollister provides an opportunity to celebrate and take part in community events year-round. From the farmer's market where growers display fresh produce from the valley to the annual Plant and Garden Expo, Downtown Wine and Beer Stroll, Air Show, Downtown Healthy Walks that promote exercise along the backdrops of the tree-lined streets, Hollister Independence Rally, Music in the Park, Street Festival and Car Show, Lights on Celebration with boutique, car show, and entertainment, and Downtown Beer and Bacon Crawl, there is entertainment for everyone.
Education and Schools
Hollister is very proud of its highly ranked schools. With a combination of public, private, and charter schools, students in Hollister find a school perfect for them. Hollister is home to the Accelerated Achievement Academy, Hollister Prep, and many more fine levels of education.
Recreation
There is no shortage of recreational activities for enthusiasts. Pinnacles National Park provides a beautiful reminder of the eruption of a volcano that formed the park while travelers hike, explore caves, camp, and view falcons, eagles, and the California Condor. Spend the weekend golfing, wine tasting, skydiving, dirt bike riding, fishing in the San Justo Reservoir, four-wheeling at the Hollister Hills State Vehicle Recreation area, or taking a scenic drive to Monterey.
Dining

Hollister residents are spoiled with their choice of sumptuous eateries especially when the food they eat is grown locally. A variety of quaint eating establishment or local hangouts are popular choices for residents who want to support their community by shopping, buying, and growing locally.